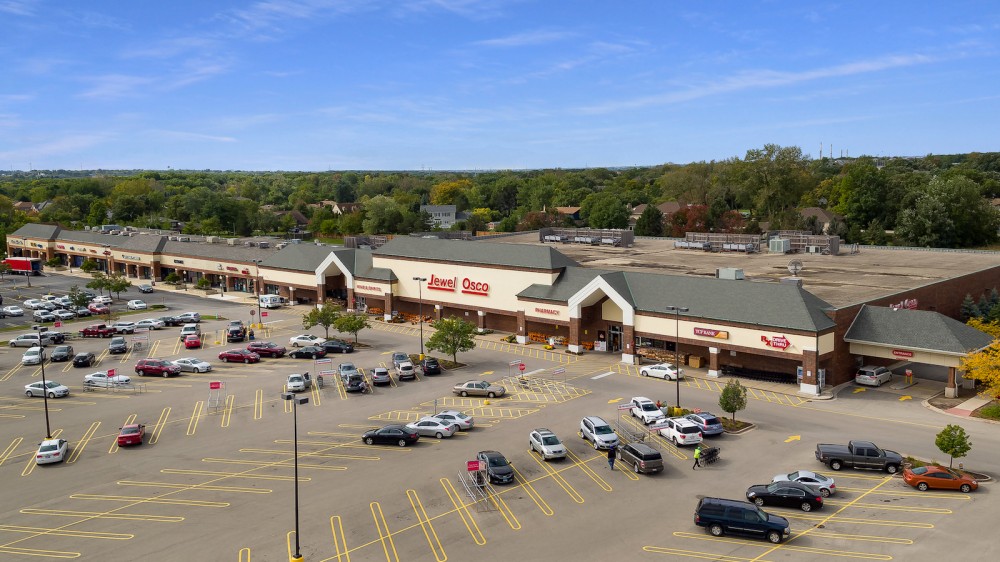 Address: 1236 State Street
Short Description:
The Cooper Commercial Investment Group has been exclusively retained by ownership to sell Centennial Plaza, a 38,500 S.F. center shadow anchored by grocery giant, Jewel-Osco (corporately owned subsidiary of parent company, Albertsons Companies) in one of the most affluent suburbs of Chicago (27 miles east), Lemont. The property has recently undergone numerous changes with excellent leasing traction and extended leases and is now being offered for $8,700,000, representing an attractive 7.50% CAP.
Details
The tenants of Centennial Plaza are all on NNN lease structures and most reimburse for both administrative and management fees. The desire and commitment to be at the center can be evidenced by multiple tenured tenants that have continuously exercised renewals. In addition to the tenured tenants, the center has had excellent leasing traction and has all, but one small space filled, which that too has numerous interested users. Between the recently extended and newly executed leases, the property is poised with stability well into the future. Additionally, the center is supported by high-traffic generator, Jewel-Osco, one of the largest food and drug retailers in the United States, with both a strong local, Chicago presence and on a national scale as well. Centennial Plaza is positioned at a hard corner in the main retail corridor surrounded by one of the most highly regarded suburban communities in Chicagoland. The high-quality brick construction has a pleasing and modern curb appeal that attracts customers to the popular, high-traffic retailers. The property also has excellent visibility due to its multiple prominent monument signs along both main roadways along with its shared access to Jewel-Osco and Burger King, creating a high-level of synergy. The immediate area boasts a strong residential community with average household incomes over $130,000 within a 1-mile radius of the property. Lemont High School has been ranked among "State's Best Schools for 2018" according to U.S. News & World Report. The market is very upscale with the property being located in the direct vicinity of some of the area's most prestigious golf courses, Cog Hill Golf and Country Club, Ruffled Feathers Golf Club, Big Run Golf Club, Gleneagles Country Club and Mid-Iron Golf Club. The BMW Championship (PGA Tour) has been held at Cog Hill and offers a luxury community featuring an elite collection of 35 homes and 52 townhomes on the course, while Ruffled Feathers is a gated community that offers million-dollar homes, and the development is still completing phases. Located on one of the main thoroughfares through Lemont, the center boasts numerous other complimentary retailers including: Starbucks, Walgreens, Aldi, U.S. Bank, AT&T, Dunkin' Donuts, Taco Bell, McDonald's, Firestone, Jimmy Johns and many more. Additionally, the property is less than 1-mile to I-355 (69k VPD), providing Lemont with direct access to the Chicago expressway system. Additionally, an interchange is located on 127th Street which provides easy and direct access to the center. Lemont has a station on Metra's Heritage Corridor, which provides weekday rail service between Joliet and Chicago Union Station. Located just 7.5 miles from the featured asset is Lemont's largest employer, Argonne National Laboratory with 4,000 employees and only 3.5 miles to a Citgo Refinery that boasts over 510 employees. Furthermore Lemont is flourishing with students as there is a significant amount of college/university options within close proximity, including: Lewis University (approximately 9 miles; enrollment: 6,573), Moraine Valley Community College (approximately 10 miles; enrollment: 36,000), Benedictine University (approximately 13 miles; enrollment: 5,101), North Central College (approximately 15 miles; enrollment: 3,000), Midwestern University (approximately 16 miles; enrollment: 6,227), College of DuPage (approximately 16 miles; enrollment: 31,627), and Saint Xavier University (approximately 15 miles; enrollment: 3,896). With the property's strategic placement along with its proximity to employees, students and residents; the asset is surely positioned as a high-quality investment for years to come.