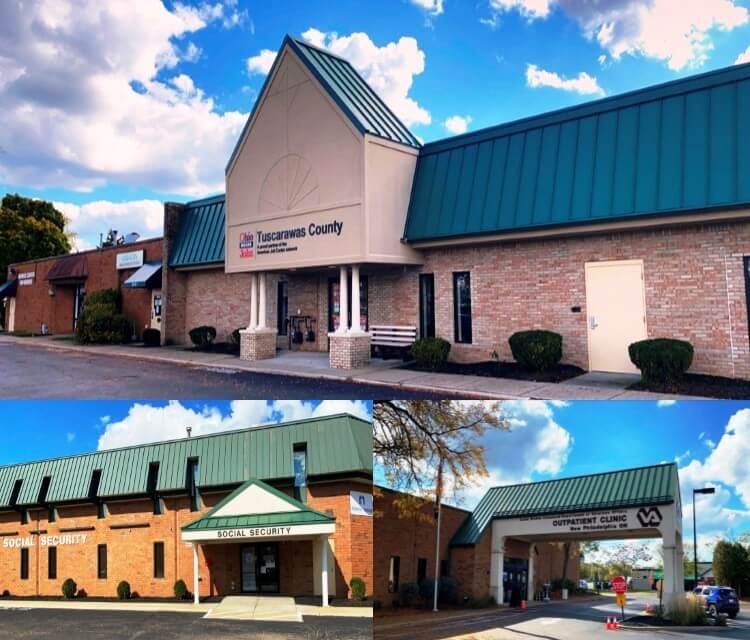 Address: 1260 Monroe Avenue NW
Short Description:
The Cooper Commercial Investment Group has been exclusively retained by ownership to sell the 100% fee simple interest in Monroe Centre, a 78,743 S.F. redeveloped center, now anchoring government, medical and office users. The property is being offered for $6,045,000, representing a highly attractive 9.00% CAP Rate, $76/S.F. asking price, below market rental rates and high 15.46% expected year-1 cash-on-cash return.
Details
The center boasts multiple anchor tenants, including the VA with recent 5-year extension that offers a Community-Based Outpatient Clinic, along with a division of their Home-Based Primary Care, the Social Security Administration, OhioMeansJobs and Fresenius Medical Care. Fresenius, a recession proof medical provider of dialysis care is the worldwide leader in the treatment of renal disease and an innovative leader in kidney disease research with approximately $22 billion in annual revenue and the largest operator of outpatient dialysis clinics worldwide serving over 2.5 million patients in 3,800 clinics. Due to the success at this location, Fresenius has been at the center since 1995 and self-funded $250,000 of upgrades into their space. Similarly, in 2018, the VA self-funded $200,000 into their space to renovate the space to their specific needs, both proving their commitment to the center. The office building also includes two offices to the State of Ohio for the BMV, Driver's Exam and Deputy Registrar, which were custom built and tenant specific. Between the tenured tenants that have been at the property for years, consistently exercising renewals and recent leasing traction, the 92% occupied center caters to the needs of the community. In fact, Interim HealthCare and Bible Baptist Church have been so pleased with the site that they have both expanded by almost doubling the size of their original spaces. The asset has been well-maintained and has multiple points of ingress/egress off Monroe Street and Fillmore Avenue with close proximity to I-77. The superior location also offers employees, visitors/patrons and patients many amenities. The complex has over 350 surface spaces available to tenants, along with every suite has its own exterior entrance. Each unit is either separately metered or submetered. Nearby, the main retail corridor offers a variety of shopping and restaurants and Akron-Canton Airport is just 34 miles north. Overall, the area boasts a strong employment base headlined with world-renowned Cleveland Clinic's Union Hospital (950 employees). The community hospital provides world-class care to the residents of the region and maintains important affiliations with Aultman Hospital in nearby Canton, Ohio. Additionally being the county-seat, the City/County Government is one of New Philadelphia's major employers with over 870 employees, along with Gradall Industries (445 employees), Smurfit Stone (320 employees), Laruen International (245 employees), Starlite (180 employees), The Timken Company (120 employees), Marsh Industries, Miller Studio, Inc., Cooper Standard, Crane Carrier Corporation and Freeport Press. The YMCA is positioned within close proximity to Monroe Centre as well as a dealership for Toyota creating an area destination point. The Tuscarawas County Regional Technology Park is located approximately 3.5 miles from the business center and is strategically located in the intellectual capital of Kent State University at Tuscarawas, a regional campus of Kent State University that covers 180 acres with four buildings enrolling over 2,050 students. Based on the vast employment opportunities, the New Philadelphia/Dover areas are "Ranked #20 in Economic Strength" in the 2019 Policom Micropolitan Economic Rankings. The asset is located in a strong residential community with average household incomes over $65,000 within a 5-mile radius and has direct access to a large population base being positioned as a suburb outside of Canton (20 miles). The metro trade area offers best-in-class retailers and steady high volumes of traffic in the corridor, making this asset a destination point for all the surrounding communities. With the strategic placement, quality tenants and proximity to employees and residents, the asset is positioned to not only thrive well into the future.