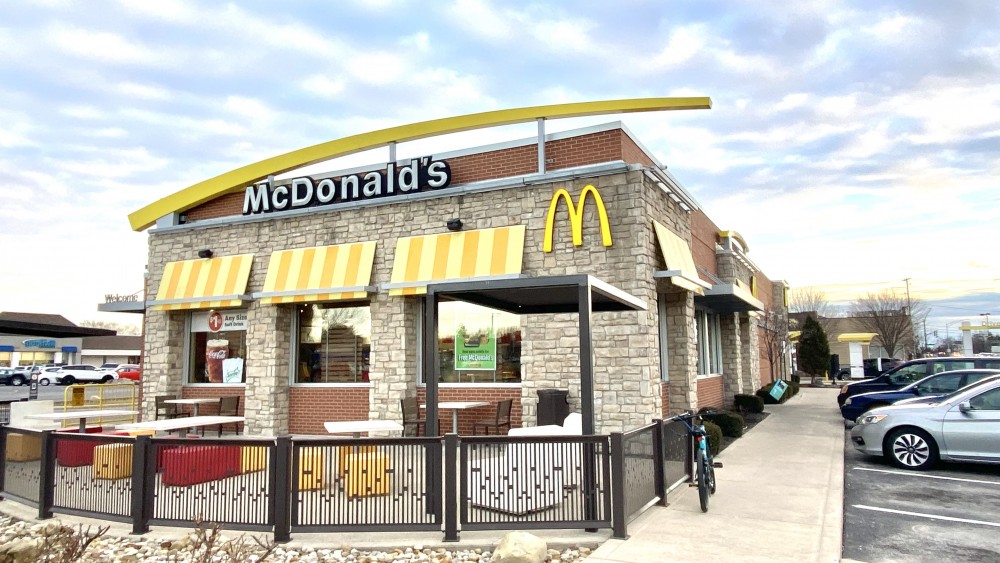 Address: 298 South Hamilton Road
Short Description:
The Cooper Commercial Investment Group has been exclusively retained by ownership to sell the 100% fee simple interest in the single-tenant, Absolute NNN McDonald's Ground Lease location in the desirable community of Gahanna, a suburb of Columbus (8 miles), Ohio. The property is being offered for $2,490,000, and McDonald's hand-picked this particular location for its position in the market directly in front of Hunter's Ridge Shopping Center, anchored by a Kroger Marketplace.
Details
McDonald's (NYSE: MCD/Moody's "Baa1"/S&P "BBB+") is the world's leading food service brands with more than 40,000 restaurants in more than 100 countries and over $23 Billion in revenues (2021), the restaurant Is destined for success in the most perfect location. The property was built in 2011 on a 20-year lease, leaving approximately 9.5 years of original term remaining. The lease includes a 10% rental increase in 2026 and also offers 10% increases in each option period. The lease rate is significantly below market for rental rates as nearby fast-food restaurants that are non-freestanding and without drive-thru are paying nearly double the rent!! The tenant handles all on-site maintenance and repairs to the building including roof and structure and reimburses the owner of Hunters Ridge for the shared drive expenses, leaving ownership with no daily management responsibilities. McDonald's built the building from the ground up as a prototype location with 2 drive-thru lanes and designed the property to ideally match their specific needs. The asset is positioned along one of the busiest roadways in Gahanna, Hamilton Road with traffic counts of over 34,000 VPD. The property also sits less than 1/4 mile from I-270 with traffic counts of 136,600+ VPD along the highway to service nearby highway traffic and located just 4 miles from John Glenn Columbus International Airport. Hamilton Road's constant flurry of traffic is a result of being the city's main retail corridor and is lined with other complimentary retailers, along with Gahanna City Offices, Fire Department and Lincoln High School, all less than 0.5 miles north on Hamilton. Gahanna's growth is astonishing in both the residential and commercial sectors with new retailers added, and the city reporting that it is one of the fastest growing Columbus suburbs. In fact, the city has been named one of the 'Best Hometowns' by Ohio Magazine and listed in the "Top 100 Best Places to Live" by Money magazine. The center is surrounded by an economically strong residential community with average household incomes of over $104,000 in 3-miles and a robust population of over 226,500 residents within 5-miles. The community offers a wide range of employment between the area's retail sector and the region's other major employers, along with being a short distance from Columbus for commuters. Some of the largest employers in the region include Zulily (1,400 employees in the region between its offices in Gahanna and distribution center in Obetz), McGraw-Hill Education (700 employees), American Electric Power (16,700 employees) Amazon (4,000 employees), Ascena Retail (1,475 employees) and Mount Carmel Health System (10,000+ employees system-wide, Mount Carmel East – 3 miles south). Even more notable, the U.S.-based Intel chose Ohio to launch a new hi-tech campus to manufacture semiconductors. This move will create thousands of high-paying jobs, secure America's chip supply chain, launch the semiconductor sector in the state, and reinforce Ohio as a magnet for attracting talent and businesses. Intel's planned state-of-the-art manufacturing facility in Ohio will be their most hi-tech manufacturing campus, yet on the 926-acre site in Licking County (7.5 miles from the featured property). The $20 billion campus will ultimately create over 3,000 hi-tech Intel jobs, create 7,000 constructions jobs over the course of the build, offer tens of thousands of indirect and support jobs and will benefit 140 existing Ohio companies that already supply Intel. Intel's campus is the largest economic event in Ohio's history. Its effects will be felt in the state for years to come, creating opportunities for Ohioans for generations. At full buildout, the total investment in the site could grow to as much as $100 billion over the next decade, making it the largest semiconductor manufacturing site in the world. For the area commuters, the Columbus employment landscape shows that with the State of Ohio, The Ohio State University (62,000 students/50,000 employees), and the United States Government accounting for an estimated 80,000 to 90,000 employees, combined with Columbus City Schools, the City of Columbus, and Franklin County, the estimated number swells to about 110,000 employees. Bundling all of the attributes, this McDonald's location will provide an investor the opportunity to purchase a hands-off asset at far below market rents in a superior location with excellent visibility and curb appeal, poised to be a solid investment well into the future.