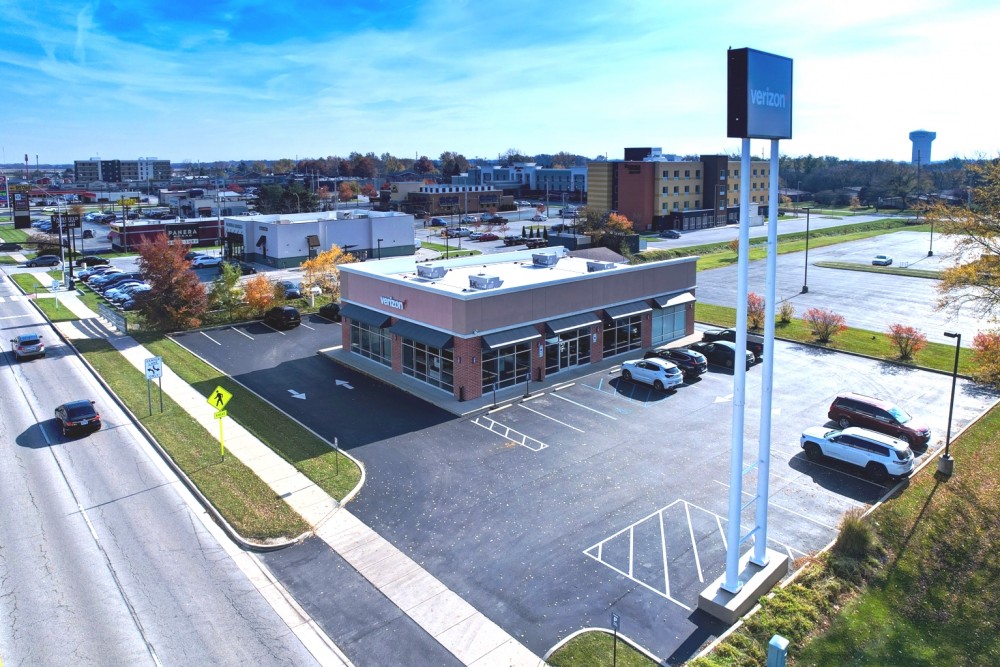 Address: 1530 E. Wooster Street
Short Description:
The Cooper Commercial Investment Group has been exclusively retained by ownership to sell the 100% fee simple interest in the free-standing, corporate Verizon location positioned directly across from Bowling Green State University (BGSU) in Bowling Green, Ohio. The property is being offered for $2,935,000, representing an attractive 6.75% CAP Rate. Verizon hand-picked this particular location for its robust expansion in the Toledo/Western Ohio region. Verizon (NYSE, Nasdaq: VZ) is one of the world's leading providers of technology and communications services and generated revenues of $128.3 billion in 2020.
Details
The property is newer construction with Verizon's lease commencing in 2012. Due to the property's success at the location, the tenant recently extended their primary term for an additional 3-years, leaving approximately 3.75 years or term remaining with (2), 5-year option still available. The asset's location is impeccable being directly across from BGSU's, Stroh Center and Doyt L. Perry Stadium drawing thousands to the south side of campus for events and games. Additionally, being positioned 0.4 miles from I-75, the exit is lined with complimentary retailers, including: McDonald's, Wendy's, Chipotle, Tim Horton's, Fairfield Inn & Suites, Hampton Inn, Buffalo Wild Wings, Burger King, Dollar General, Goodwill, Verizon, Great Clips and other regional well-known retailers. The tenant handles all daily on-site maintenance and repairs and reimburses the Landlord for insurance, leaving ownership with minimal management responsibilities. Located off the heavily traveled, Wooster Street with approximately 18,720 VPD, the property has incredible visibility and access. The property has significant frontage with prominent pylon signage. The property also sits just 0.4 miles from I-75 with traffic counts of 45,888 VPD. The asset is surrounded by an economically strong residential community with average household incomes of over $63,000 and a population of over 35,000 residents within 5 miles, which doesn't include the thousands of students living and attending BGSU. Bowling Green State University is the largest employer in the city and one of the largest employers in the Toledo MSA with approximately 5,822 employees. Bowling Green State University hosts over 22,000 students and U.S. News & World Report has ranked the university as one of the top public universities nationwide with "a strong commitment to first year programs that lead to success." The community offers a wide range of employment between the area's retail sector and the region's other major employers, along with being a short distance from Toledo for commuters. Some of the other strong employers located in Bowling Green include, Wood County Hospital, which serves as the core provider for medical, surgical and preventive services in Wood and Henry counties. The hospital employs over 700 individuals, and the hospital is proud to be a valuable resource to the community. Additionally, CMC Group, Inc. employs 266 people, while Lubrizol and Phoenix Technologies International have a strong presence in the area. Toledo's largest employment sector is healthcare with its giants – ProMedica (largest Toledo employer with 14,465 employees), MercyHealth (8,827 employees), The Toledo Clinic and the university operating a 450-acre Health Science campus, known as the University of Toledo Medical Center. The University of Toledo boasts 19,780 students and over 7,000 employees from the region. Toledo is also known for its glass production and several large glass companies have their origins in Toledo: Owens-Illinois, Owens Corning, Libbey Glass, Pilkington North America (formerly Libbey Owens Ford), and Therma-Tru have all been a long staple of Toledo's economy. Furthermore, Fifth-Third Bank's Northwest Ohio headquarters is located in Downtown Toledo, along with Whirlpool Corporation having a major presence in the city. Bundling all of the attributes, this Verizon location will provide an investor the opportunity in today's market to purchase a superior location with a built-in customer base with BGSU, excellent visibility and curb appeal, which is poised to be a solid investment well into the future.