Tractor Supply – San Saba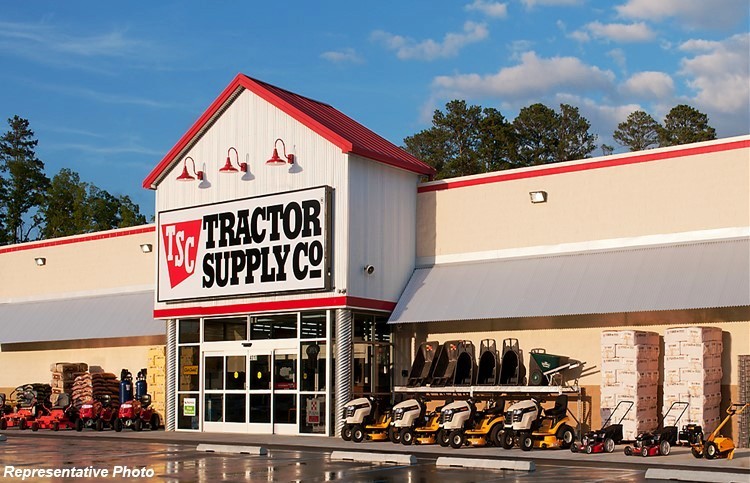 Short Description:
The Cooper Commercial Investment Group has been exclusively retained by ownership to sell the 100% fee simple interest in the single-tenant, Tractor Supply Co. (NASDAQ: TSCO) in the desirable community and county-seat location of San Saba, Texas. The property is being offered for $3,025,000, representing a 5.00% CAP Rate and low price of $96.03/S.F.
Details
Tractor Supply pays only $4.80/S.F., which is far below the typical store average across the chain, providing a very low tenant occupancy cost. The company is the largest rural lifestyle retailer in the United States. Tractor Supply Co. operates 1,955 locations across 49 states with investment grade credit of S&P "BBB" and Moody's "Baa1," has most recently reported annual revenues of $10.62 billion and the corporation is valued at $2 billion in net worth. The company has been thriving for over 80 years and shows no signs of slowing down. Tractor Supply hand-picked this particular location for its expansion in the Central Texas market, where the area has flourished with major agricultural companies producing wool, mohair, cattle, hogs, and poultry. The asset conveniently sits at the corner of US-190 and FM 1030 and US-190 is an east-west highway running directly through San Saba and runs through Texas and Louisiana. The store has a wide audience draw as next closest Tractor Supply locations are over 40 miles away. The 31,500 S.F. building was built in 2010 on 2.90 acres, and the property has excellent visibility, prominent signage and access points from both roadways, US-190 and FM 1030. Tractor Supply's lease commenced in 2017 with 10 years of original term, leaving approximately 5.5 years remaining. The lease includes rental increases in each option period and the tenant handles ALL daily on-site maintenance and repairs, along with directly handling real estate taxes and insurance. Further limiting any regular maintenance costs, the property is built to last with solid construction consisting of a metal roof and concrete parking lot. San Saba, Texas is an economic hub centrally located two hours from Austin, two and half hours from San Antonio, three hours from Fort Worth, and just over three hours from Dallas. The City of San Saba is located right in the heart of the Texas Hill Country. Matter of fact, if you put your finger right in the middle of a map of Texas, you're at the city's doorstep. With one of the lowest property tax rates in the state of Texas, San Saba is a perfect draw for businesses. San Saba is "The Pecan Capital of the World" and is evidenced by the picturesque and functional pecan trees can be found in the many orchards around San Saba County as well as in the yards of businesses and homes. The city and county's pecans are shipped worldwide to businesses and individuals from the numerous pecan producers in San Saba. Directly across US-190 from the featured property is the San Saba River Pecan Company who has approximately 10,000 pecan trees growing in a park-like setting bounded by the San Saba River and located in the Hill Country of Central Texas. All of the company's award-winning gourmet products are produced and shipped from facilities housed within the orchard. San Saba has excellent schools, parks, family-owned retail businesses and restaurants, backed by city-owned utilities and an endless supply of water. San Saba's residents enjoy award-winning eighteen-hole golf courses, two suspension bridges, national registry trees, historic buildings and churches, and of course…PECANS! The economy of San Saba employs over 1,350 people and has low unemployment rate. Some of the largest industries in San Saba are agriculture and farming, professional services, restaurants, and government offices for the city, village and borough. Bundling all of the attributes, this Tractor Supply location will provide an investor the opportunity in today's market to purchase a low management asset with quality construction and excellent visibility, poised to be a solid investment well into the future.