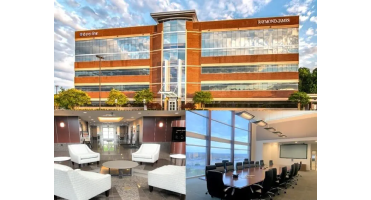 Address: 11400 Parkside Drive
Short Description:
The Cooper Commercial Investment Group has been exclusively retained by ownership to sell the 100% fee simple interest in Parkside Plaza I, a to be 100% occupied Class "A" office building anchored by investment grade tenants Raymond James (S&P BBB+) and Waste Connections (S&P BBB+). ALL of the tenants at Parkside Plaza I are national tenants and ALL tenants are on NNN lease structures. Additionally, ALL of the leases have rental increases in their current terms adding more value and NOI growth.
Details
Parkside Plaza I has been immaculately maintained with a stunning exterior as well as a luxurious interior, common areas and in-suite amenities. The jaw-dropping entry and atrium lobby rises from the first to third floors and is showcased with marble and wood finishings and anchor tenants have signage at the top of the building that has visibility from I-75/40, a great source of advertising. Located in the highly sought-after Turkey Creek district of Knoxville, Tennessee, the 100,340 S.F. asset is home to several tenants and an ideal location in the high-demand corridor. Most tenants at the building are long-term and have either recently exercised a renewal or executed a long-term lease proving their commitment and dedication to the property and market. In fact, two of the anchors, Raymond James and Dura-Line are original tenants to the building with continued lease extensions along the way. Raymond James occupies the entire second floor and recently exercised an early extension taking them out to 2026. Newer tenant, Waste Connections, who occupies the entire fifth floor started a new lease in 2021 with a full 10-year commitment. Rounding out the rent roll, TEKsystems, Keller Williams, Dura-Line, APTIM, and Arcadis are all well-known and highly sought-after national corporations, further enhancing the stability of this well-diversified asset. The featured asset is located in an extremely high barrier to entry location boasting a strong residential community with average household incomes of just over $124,000 within a 5-mile radius of the building and a population density of nearly 250,000 within 10 miles. The property is in an economically developed area, which is an understatement as the area is lined with offices, schools, retail and medical facilities. Located just 1 mile from the featured asset is Turkey Creek Medical Center with over 7,000 employees system-wide. Parkside Plaza I is ideal as it caters to tenants with its highly-desirable close parking field and just a short distance from a host of nearby amenities including: Pavilion at Turkey Creek anchored by Target, Hobby Lobby, Walmart Supercenter, PetSmart and Regal Pinnacle IMAX, Turkey Creek Shopping Mall anchored by Michaels and Party City, The Pinnacle at Turkey Creek anchored by World Market, Bed, Bath & Beyond, Belk, Panera Bread and Lens Crafters, Publix Super Market at Turkey Creek, numerous hotel options and a plethora of other nearby complimentary retailers and restaurants. Another major attribute for tenants is the desirable location adjacent to major interstate artery I-75/40, the main highway serving this region of Knoxville and provides excellent access to the property. Traffic counts at the entrance/exit ramps are in upwards of 133,000 vehicles per day. In relation to the subject property, the community has remained extremely contemporary with high growth levels evidenced by Knoxville being named by Livability.com as a "Top 100 City in the U.S. to Live" and is a "Top 35 Best Metro for Economic Strength" by Policom Economic Analysis (2020). Global brands like Pilot Travel Companies, HGTV and Bush's Beans are long-term staple to the city and have a presence that draws more and more companies to the city. Additionally, Knoxville is the home of the flagship campus of the University of Tennessee (16 miles, 9,000+ employees and 28,320+ students) whose athletics programs, nicknamed the "Volunteers" are immensely popular in Knoxville and the surrounding region. The metro trade area offers best-in-class retailers and steady high volumes of traffic in the corridor, making this asset a destination point for all the surrounding communities. With the strategic placement, solid construction, quality tenants and leases and with its close proximity to employees and residents; the asset is positioned to not only thrive well into the future but offer an investor the much desired and invaluable pride of ownership.