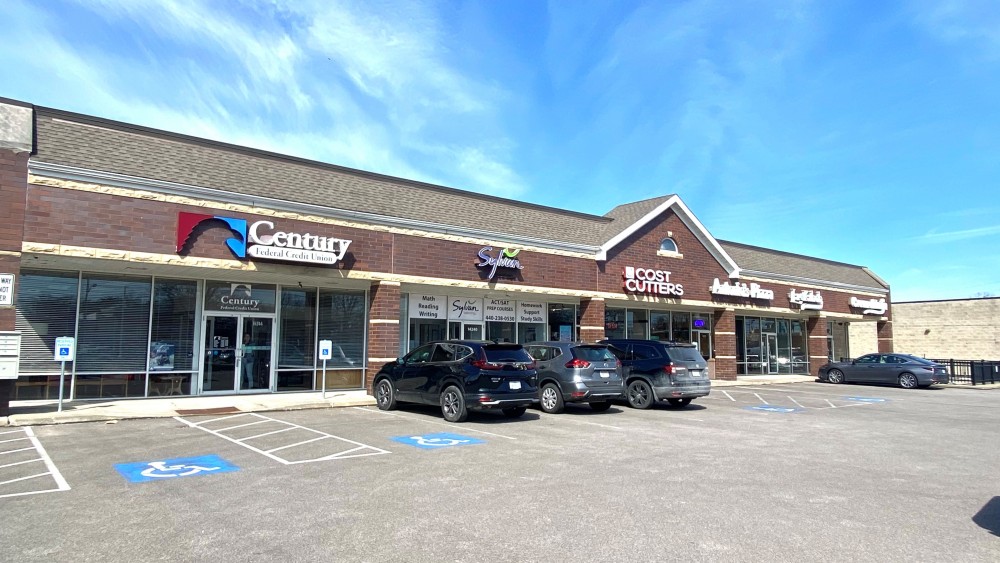 Address: 14224-14244 Pearl Road
Short Description:
The Cooper Commercial Investment Group has been exclusively retained by ownership to sell Century Federal Plaza, a 100% occupied, 10,428 S.F. retail asset boasting all service-oriented and internet proof tenants. The plaza is being offered for $3,365,000, representing a 6.50% CAP Rate. Century Federal Plaza is comprised of many well-known and highly recognizable regional tenants that have a strong customer base, including: Century Federal Credit Union (with drive-thru), Sylvan Learning Center, Cost Cutters Salon backed by well-known Regis Corporation (NYSE: RGS with approx. 6,000 stores), along with Antonio's Pizza, La-Kabob Lebanese Grill and Crown of India restaurants, which have all been entrenched in the community for a number of years.
Details
. In fact, over 70% of the tenants in the center have recent renewed leases, demonstrating their success at the property. To further describe the success of the tenants and their desire to be at the center, the last vacancy at the center was in 2016, meaning the center has been 100% occupied for the past 7 years. The tenants consistently exercise options to extend their leases, further enhancing the long-term, stable rent roll. All tenants are on NNN lease structures, and most tenants reimburse the management fee as well as an administrative fee. The asset has been well-maintained with a modern brick curb appeal, recent parking lot improvements and a new security system/cameras. Positioned with excellent frontage and prominent monument signage, the property has easy access for the employees and guests in the midst of one of the busiest trafficked roadways in the entire county. Century Federal Plaza is located in a strong community with average household incomes over $108,000 within a 3-mile radius and a population of over 138,000 people within a 5-mile radius of the property. The affluent, suburban community of Strongsville is advantageously located just 15 miles south of Cleveland and only 8 miles from Cleveland Hopkins International Airport. One of the properties most significant attributes is position along Pearl Road, one of the most heavily traveled roadways in the city that is lined with retail and traffic counts over 25,000 VPD. The property is also in close proximity to I-71 (138,000+ VPD), located just 0.5 miles from the featured property and 3 miles from I-80 (Ohio Turnpike) with over 98,000 VPD. Strongsville is known for its dense retail market, which is surrounded by loads of residential. The high-barrier to entry market starts with SouthPark Mall, Northeast Ohio's largest retail destination offering 1,600,000 S.F. of retail, anchored by Dillard's, Macy's, JCPenney, Dicks Sporting Goods and Kohls, along with 180 additional shopping experiences, 20 eateries and Cinemark Theater with 14 screens. Beyond the mall, the area offers loads of complimentary retailers in every direction. Century Federal Plaza is positioned just a stone's throw away from one of the highest trafficked intersections (54,000 VPD) in the county at Route 82 and Pearl Road. The center is surrounded by Hobby Lobby, Harbor Freight Tools, Dunkin, Advance Auto, Chipotle, Jimmy John's, Big Lots, CVS, Huntington Bank, McDonald's and many, many more. Besides Southpark Mall, the property is just seconds away from The Greens of Strongsville anchored by Target, Ledgewood Plaza and the upgraded and supersized Giant Eagle Market District grocery store, creating a constant flurry of nearby activity. The community offers a wide range of employment between the area's retail sector and the region's other major employers, while still being a short distance from Cleveland for an easy commute. Strongsville boasts four business parks: Strongsville Business & Technology Park, Darice Parkway, Progressive Drive Business Park and Dow Circle Research & Development Park. Strongsville Business & Technology is the largest business park in Northeast Ohio with over 70 companies/employers located in the park employing over 3,000 people, The Progressive Drive Business Park was the very first business park established in Strongsville and is the second largest based on overall acreage. The Progressive Drive Business Park boasts over 2,000 employees from the businesses within. The Darice Parkway Business Park is the newest and offers 19 companies/employers with over 1,000 employees and includes the Michael's Craft Stores Regional Headquarters and the Dow Circle Research and Development Park contains the city's largest employers, which include Akzo Nobel's Global R&D Center, Enterprise Rental Car's Regional Headquarters and PNC's Technology Center. All of the parks boast a minimum of a 95% occupancy rate. Given the property's strategic placement and proximity to employees and residents and its continued stable roster of tenants; this asset is positioned with great potential to continue to thrive well into the future.