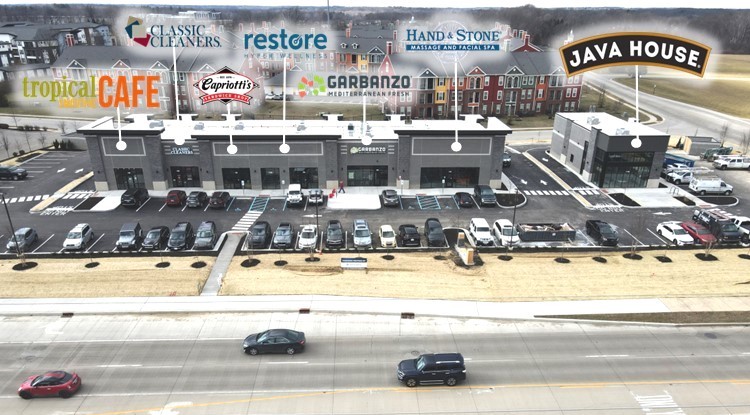 Address: 11100 & 11150 N. Michigan Road
Short Description:
The Cooper Commercial Investment Group has been exclusively retained by ownership to sell The Avenue at Bennet Farms, a high-end two building retail asset consisting of 12,969 S.F. The brand-new development is well-positioned in the dense and extremely affluent market of Zionsville/Carmel, Indiana. The property is being offered for a blended CAP Rate of a 6% for the inline center boasting well-known and experienced upscale tenants and 5% for the freestanding Java House. The blended CAP Rate of 5.83% represents an asking price of $7,435,000 for the Class "A" center, with most tenants on 10+ year leases, which include rental increases throughout the primary term, creating unbelievable rent roll stability.
Details
When you ask yourself about the specific requirements you need to purchase a property, what comes to mind? Strong demographics? Strong traffic counts? Long-term, stable rent roll? Unbeatable position in the market? No deferred property maintenance? Well, look no further as this property checks all the boxes! It hits every single mark and more. The Avenue at Bennett Farms provides an investor the opportunity to acquire a once in a lifetime piece of real estate in one of the best markets in the Midwest and arguably even the entire United States. The list of attributes seems to be never ending but starts with the affluent community. The average household incomes within 1-mile of the property are over $206,000!! Taking it out even further, the average household incomes within a 5-miles radius re still over $140,000, with a population density of approximately 120,000 people. Zionsville has always been a desirable and sought-after place to reside, and it isn't stopping as it has been the 2nd fastest growing city in the state. Just behind the property, loads of high-end, luxury apartments and condos will draw people to the service-oriented tenants. Aria was recently built in 2020 and offers 218 units, while the Domain at Bennett Farms boasts 220, with timeless style in the premier location. Just north of the property, Holliday Farms can be found and will boast over 430 luxury homes priced over $1 million each. The development has also been approved to develop 597 acres, which will feature a Pete Dye designed 18-hole championship golf course, restaurants and retail stores. The Zionsville residential market continues to grow, which is no surprise that in 2019 it was named one of the "Best Cities to Live in Indiana", one of "Indiana's 20 Safest Cities" (SafeWise) and one of the "Most Charming Small Towns in Every State" (Reader's Digest). The city also has a Four Star School designation bestowed by the Indiana Department of Education, has won National Blue Ribbon School awards and is adding a new elementary school, slated to open in August 2022. ZCHS also has one of the highest GQE scores in the state. Still not convinced that the location is top notch and arguably one of the best pieces of real estate in the Indianapolis MSA? Keep reading! The Avenue of Bennet Farms is comprised of tenants that cater to the booming surrounding community to support this ever-growing market. The significant increase of new residential construction makes The Avenue at Bennett Farms a perfect addition to the market. Java House has below market rents for similar freestanding drive-thru sites and is destined to be a high-traffic generator and major hot spot to the area. Soon, there will be a signalized traffic light on Bennett Drive, which will then position Java House (with drive-thru) at the signalized intersection, for easy access. The property already offers signalized access at the entrance off North Michigan Avenue, so this will create multiple points of ingress/egress. Java House is a staple to the Indianapolis region with other locations and a strong customer base. The lease is guaranteed by Heartland Foods Products Group, headquartered in Carmel. Heartland Foods is a global leader in the consumer-packaged goods (CPG) industry. Heartland is also a leading provider of private label sweeteners and liquid water enhancers (SPLENDA®) in the U.S. and reports revenue of $506 million. The inline portion of the asset is comprised of well-known, national users: Tropical Smoothie (also with drive-thru), Restore Hyper Wellness, Capriotti's Sandwich Shop, Hand and Stone Massage and Facial Spa and Garbanzo Mediterranean Fresh. Again, all of these tenants are starting on brand-new 10+ year, NNN leases and have a structure that will increase the NOI in the future due to built-in automatic annual increases to the CAM reimbursements, creating additional future income growth. The inline portion is complete with regionally known Classic Cleaners, a staple to the region. The company is more than just a standard dry cleaner; they serve their sophisticated customers with unrivaled convenience and has been voted "Best Dry Cleaner in Indianapolis" for multiple years by the IndyStar. The picturesque and charming town of Zionsville is a huge regional draw loaded with retailers and popular entertainment and service users. The town of Zionsville is very selective on the retailers and developments that are welcomed, which allows the city's standard to be luxury. Positioned along US-421 (N. Michigan Avenue, 37,600+ VPD) with connection to I-465 (115,210 VPD) just south of the property, the property has excellent frontage with prominent signage and is surrounded by other complimentary retailers, including: Kroger, Target, Kohl's, Best Buy, Marshall's, LA Fitness and so many more. The property is also directly across from the Shoppes at Weston Pointe anchored by Stone Creek Restaurant, which was hand selected by one of the strongest restaurant operators in Indiana. The chef's restaurants are sought out for the ultimate dining experience. Less than 2-miles of the featured asset is Creekside Corporate Park, a 40+ acre corporate park, with available development parcels still in process that includes walking trails, ravines, outdoor fitness and recreation. Zionsville has several major employers, including IT companies, hc1.com, MOBI and Smart IT, all with over 300 employees, Witham Health Services (600+ employees), FedEx (250+ employees) and the headquarters for LIDS, boasting over 300 employees. Additionally, in that same vicinity at the corner of Creek Way and 106th Street, Rahal Letterman Lanigan Racing (RLL) is investing over $20 million to establish and equip its new global headquarters in the 100,000 S.F. facility. Just 4.5 miles south is Ascension's St. Vincent Hospital with Peyton Manning's Children's Hospital. The hospital is a Level I Trauma Center and the Children's Hospital has over 300 pediatric specialists on-site. Situated just 15 miles north of Downtown Indianapolis, the vast employment base of Indianapolis offers residents of the area a multitude of opportunities. The area is home to three Fortune 500 companies – health insurance company Anthem Inc., pharmaceutical company Eli Lilly (11,000+ employees) and Simon Property Group, the largest real estate investment trust in the U.S. Columbus, Indiana-based Cummins, another major area employer, opened its Global Distribution Headquarters in downtown Indianapolis in 2017. The city also offers two major league sports clubs, four university campuses, and several museums, including the world's largest children's museum. However, the city is perhaps best known for annually hosting the NCAA Big 10 Championship and the world's largest single-day sporting event, the Indianapolis 500. For travelers to the area, the hotel options are plentiful and has convenient access to the Indianapolis International Airport, just 24 miles south. Given the property's strategic placement and proximity to employees and residents; this asset is positioned with great potential for years to come and if you still aren't convinced on the tenants, brand-new building or market – call us and let's talk, because it can't be beat!